Given these trends and the national importance of software and AI, the goal of the Research at Immersive Software Engineering ([email protected]) programme is to act as a catalyst for the development of a strong research and application Low Code / No Code capability for Ireland.
R@ISE is uniquely placed to accelerate this development into the future of Low Code / No Code with industry partners like Tines, ADI, Stripe, Johnson & John, and Tracworx who are already constructing that future with the Immersive Software Engineering (ISE) degree at UL. We will also partner with Limerick City and County Council to embed LC/NC approach within a public policy context. 
Aims and Objectives of the Research Programme
[email protected] will define and carry out a research and dissemination program in both core (Low Code / No Code development platforms) and applied Software Engineering (Digital Thread), collaborating with five companies (3 MNCs and 2 startups), the Limerick City and County Council.
With three national and eight international senior specialist experts the [email protected] research program addresses SFI's remit of core and applied software engineering in STEM.
This collaborative research program will enable a truly transformational impact in the partner companies and the rich environment that we address in outreach and EPE. 
[email protected]'s impact will be:
A comprehensive platform for LC/NC development for Ireland.

A shared cohesive vision and strategy for the growth of LC/NC research, education and tool development

An unprecedented level of participation and partnership of academic and industry partners committed to the LC/NC vision.

The extended dissemination of high-calibre and research-led insights relating to the evolving LC/NC field. The exponential growth of high-class LC/NC deployment by small and large actors, furthering increased corporate automation and revenue generation on a national scale. 
Collaborating Companies and Technical Institutes and Universities.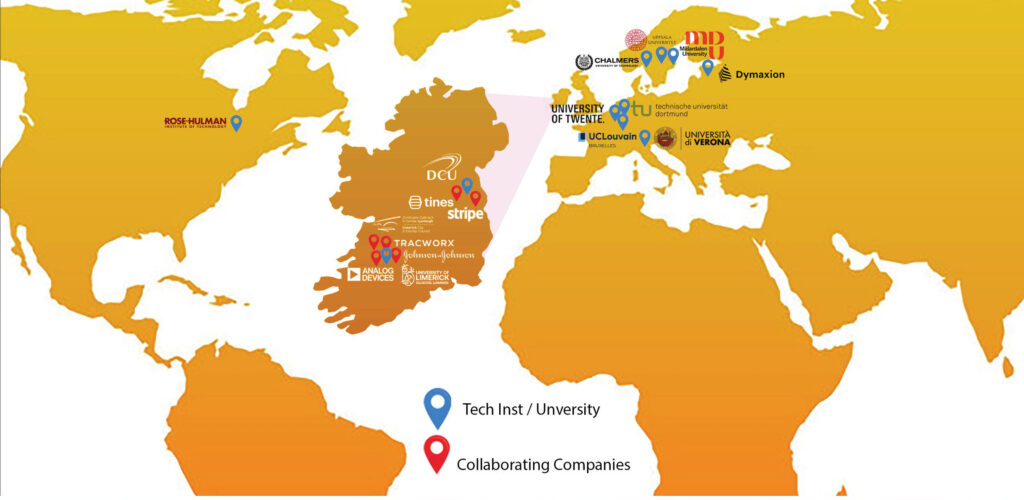 Collaborators:
JJ Collins (UL)
Dr. Victor Cionca (MTU)
Prof. Bernhard Steffen (TU Dortmund, D)
Prof. Arend Rensink (TU Enschede, NL)
Prof. Axel Legay (UC Louvain, B)
Prof. Wang Yi (U. Uppsala, S)
Prof. Cristina Seceleanu (MTH, Västerås, S)
Prof. David Fisher (R-Hulman Inst. of Tech., Indiana, USA)
Prof. Gabriel Miro-Muntean (DCU)
Prof. Gerardo Schneider (Chalmers, S)
Prof. Graziano Pravadelli (Verona, I)
The [email protected] team will build a strong bridge between the collaborative research in the [email protected] projects and its partner companies on one side, and the challenges, projects and topics they and the other ISE Residency Partner companies offer to the ISE students.
ISE will enrol ca. 80 students per year, and have about 300 students each year over the four cohorts of its integrated BSc/MSc. The message amplification and the acceleration of uptake inherent in the embedding of core and applied research in the ISE educational blocks, both on campus and in the residencies, is unique in the educational landscape in Ireland and internationally.
The long-term transformational effect of 80 highly skilled MSc graduates in Software Engineering who are native in a research-driven environment, and join any of the Residency partner companies or other companies, or governmental organizations, or continue into research, in academia or any of the research centres, or follow the example of the founders they got to know through [email protected] and set up their own company. The effect of scale [email protected] can achieve through its research capacity at the PhD and Postdoc levels is essential to guarantee that no student and no residency partner company will be left behind on the research track.